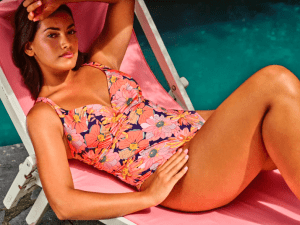 For more than a year now we have been dealing with illness, heartache, mental adjustments and so many disappointments. Things are slowly opening up and a sense of normal is getting closer. Sunny skies are ahead with summer fast approaching! As we wait in anticipation for this year's version of summer holidays, whether local vacations or in most cases a staycation in our own backyards, it is easier to justify a little treat here and there. Luxury Swimwear = Backyard Luxury!
The purchase of new swimwear will make your vacation, whatever form it takes, seem a little more special! Swimwear that is fitted properly to your body shape gives the feeling of comfort and confident. Swimwear exposes more of your body than any other piece of clothing, it's not always the easiest item to feel good in.
When considering the purchase of a new swimsuit there are key things to consider:
Your swimwear should be comfortable enough that you could spend a full day in the suit of choice. Straps and any elastic, especially around the legs should be comfortable, no pinching!
Swimwear should fit snuggly, but not biting at any part of the body. All swimsuits feel a little more lose when wet, never purchase a suit that is too big.
Underwire cup construction can benefit any cup size just as bras do, providing a lift to your breasts and giving a slimmer overall look.
A higher cut leg provides a slimmer leg look. If the swimsuit sits too low on the leg, it cuts and isn't flattering
Light control panels are offered in some one-piece suits, giving a slimming effect.
Bikinis are great if you are a completely different size on the top from the bottom, most bikinis are sold as separate pieces.
What is your swimsuit purpose? Is your suit to be worn while swimming lengths? Suits are available in fabrics that have special chlorine treatments, making them a better choice.
Dealing with small children and need to feel comfortable and fully covered? Maybe a tankini body would suit your needs better than a bikini.
More modest suits are good for those who want to cover up for sun protection or cultural reasons. Consider what the right neckline is for you, the higher the neckline the more coverage achieved.
Details such as ruching or draping at the waist are flattering and create an interesting shape to a suit.
Be open to trying on different styles, experience both pattern and solid coloured suits, patterns often disguise imperfections!
Swimwear is best purchased by trying the suits on, we hope to be open shortly! There is a small selection of swimwear on the J'adore Intimates website for previewing or purchasing if you can't wait until we re-open.
Book an appointment and let J'adore choose the perfect fitting swimwear for you and have a Suitable Summer!