It's finally time to think Spring! Exciting fresh colours including soft blues and subtle pinks, floral embroidery in feminine watercolour shades, combined with delicate spring details are part of our newest lingerie assortment.
One of our favorite brands is Belgium's Prima Donna, supremely comfortable, super-stylish, and empowering. However, the true power of beautiful, comfortable lingerie can only be felt once you try on a lingerie set. It changes the way you walk, talk, and your total attitude is altered in a positive way!
For 150 years Prima Donna's mission has been to empower women and help them feel proud of their femininity. As part of the #WeArePrimaDonna campaign, women who aren't afraid to discuss their bodies and their breasts in a candid and casual way are spotlighted. They inspire other women to stop by a specialized lingerie boutique and experience the effect of stylish lingerie with an impeccable fit. The featured women act as role models for other women, Women empowering women…..Check out #WeArePrimaDonna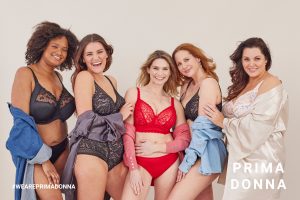 Springtime is always a great time to revisit and refresh our lifestyle and that certainly includes refreshing your under garments!
Think about adding a little Spring into your lingerie wardrobe!