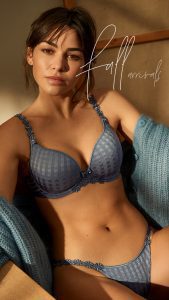 Perhaps you are in need of back-to-work essentials or a different size of bra than you are currently wearing, or maybe your bras are just tired and worn and a refresh is in order…J'adore has many new fall arrivals to choose from in our assortment of imported lingerie including Prima Donna, Marie Jo, Simone Perele, Passionata, Chantelle and others.
Colours for the autumn season include intense blacks, shades of blue and grey, that are peppered with spice options, all definitely say autumn is here!
Nancy always keeps support in mind when selecting the styles for the new season's assortment.
It is important to get fitted yearly! Our body shape reflects the physical changes that we all go through as women. Nice lingerie that fits properly makes you feel self-assured and radiant. Do something for yourself and refresh your lingerie drawer with something new…..you deserve it!
We can't mention enough how important it is to wear a properly fitting bra. The health benefits alone should prompt all women to get fitted regularly. Posture instantly improves, leading to feeling more comfortable in your clothing. A good bra will show off your clothing resulting in your wardrobe fitting much better.
You may have experienced nasty red skin marks left by an improperly fitting bra, eliminate that feeling by switching to a bra that is sized correctly for your shape.
The quality of the material used in a bra makes a huge difference in the overall feeling experienced. Our assortment focuses on brands that use high quality fabrics, trims, laces and elastics. Autumn offerings in Chantelle, Marie Jo, Passionata, Prima Donna, Simone Perele have arrived and are in our boutique waiting for you to discover.
Proper fitting lingerie is a must have for fall…. as well as every other season!