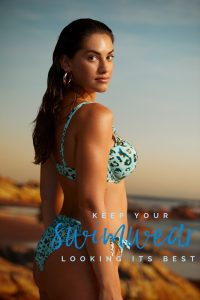 Summer breezes are here and finally we are getting use of our beautiful swim pieces! Whether you are hitting the beach or just chilling poolside, a great swimsuit is a must have for the hot summer days! Tankinis, bikinis and one piece swimsuits with bra sized cups now in store to choose from.
Swimwear takes a beating with exposure to sun, saltwater, pool chemicals, sunscreen, sweat, and other potentially damaging factors! This is why proper care of all swimwear is so important to prevent early colour fading and areas of premature wear and tear.
You might have asked yourself whether washing machine care is correct?
Here are some washing tips:
Tip 1: RINSE! As soon as possible rinse your swimwear in cold or lukewarm water to remove any harmful substances.
Tip 2: Always check the CARE INSTRUCTIONS on the label, they do vary upon fabrics, not all fabrics can be machine washed. We always recommend washing swimwear by hand. Use cold or lukewarm water and a gentle detergent. Don't leave your swimwear soaking.
If you need to wash by washing machine, choose a delicate cycle, wash in cold water and use a laundry bag.
Tip 3: NEVER USE FABRIC SOFTENER, it can affect the elasticity of the fabric.
Tip 4: Dry by laying flat or allow to air dry, but never in direct sunlight! NEVER TUMBLE-DRY, this causes damage to swimwear fabrics, just as it does with lingerie.
A couple of other things to keep your swimwear looking great: avoid coming in contact with rough stones and swimming pool tiles. They can damage your suit. Bring a towel to sit on!
Avoid wearing your best swimwear in the jacuzzi. The hot water will damage the fabric and cause the colours to fade.
Take proper care of your swimwear, wear with confidence, and enjoy all the summer breezes & refreshing splashes that come your way in the next couple of months!