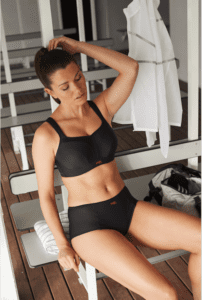 Many gyms still remain closed and by now most of us have adopted alternate fitness options. Changes in our regular exercise routines does not mean wearing a proper fitting, supportive sports bra is any less important. Ultimate comfort and bounce control in a sports bra are key to feeling great while working out! A sports bras should encapsulate your breasts and not compress. Unwanted pressure is not necessary. The cups should hold the breasts firmly in a natural place and not create a squishy uni-boob effect.
When engaging in any type of exercise our breasts move, that movement needs to be limited. Continuous and repetitive movements can result in soreness, pain and sagging…… and who wants that! If a proper fitting sports bra is not worn, you put yourself at more risk of developing back and breast pain. Size doesn't matter, all breasts move when exercising.
Sports bras are made in performance fabrics (different fabric from regular bras) that are breathable, moisture-absorbing and quick-drying. All these properties help in preventing unwanted chafing or skin irritation created by rubbing. The fabrics are generally soft with supportive seaming on the outside and or concealed within the bra lining to further prevent any irritations.
A sports bra should cover all of the breast with no bulges at the cup top or at the underarm. If the bra fits this way you will experience less bounce!
Wire or wire-free is another option to consider when choosing the right sports bra. Both options can provide comfort and support, and will depend on your personal preferences. Bras with wires provide more lift.
The straps on sports bras are often wider than your everyday bra and are cushioned for added comfort. Some styles offer a criss-cross configuration or a T-back clip to create racerback styling which adds extra support.
April is a great month to continue on with the self- care concept we covered in February's blog. Think spring refresh! J'adore Intimates's selection of sports bras is extensive and allows us to find the proper fitting sports bra for many shapes and sizes.
Book your appointment soon and lets get you into the "Ultimate Bounce Control" sports bra!
All sports bras are 20% off for the month of April!